Welcome!
If you dig poetry and poetry videos pull up a chair. If you are into poetry that follows rules and forms this may not be your space after all. Though I love to write poetry that sings, I am by nature a natural rule breaker. I would rather give you a fresh perspective of the mundane then a sonnet of mediocrity.
For me, poetry is an art form that uses words to color outside the lines, stanzas to bring the scraps of life into a montage, and requires a moment to scratch the top of our heads and wonder what it is all about.
Don't get me wrong on that last one. I believe poetry should be accessible and approachable like a close friend you share a cup of coffee with while you ponder life. But just like a close friend it should challenge you see more than black words on a white background.
Poetry should do more than highlight the grey areas, it should inspire us to elevate our existence.
I know that sounds like a tall order, but it isn't that the point of art and music? Why not poetry?
I won't promise that every poem you read in my blog, books, or zine will elevate your quality of life but it is my intention that you feel their nudge.
Thank you for reading,

Copyright
This site is copyright © 2009–2016 by Delaina J. Miller. All rights reserved. The poetry and other content of this blog falls under copyright law. Please do not use or reprint any content on this site without permission, thank you. You are welcome to link to any of the content without permission.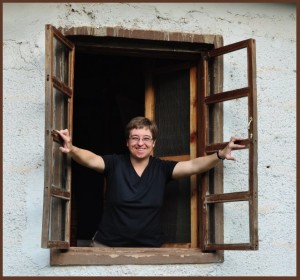 Psst…Enjoy Coloring!
When I'm not writing poetry, I'm creating coloring books with the talented Kristin G. Hatch.
Check out our coloring books at either one of these pages: Mantra Mandalas or Content X Design for a complete list of all our books.
Enjoy coloring your world.