The Unique
&

Sundry Photos
Art from The Unique
&

Sundry
The Unique and Sundry is a debut collection brought to us by American Poet Delaina Miller. It is published by Content X Design Inc., who are based in Kansas City, MO.
With a total of more than 80 'Unique and Sundry' poems, this collection would at first appear unwieldy, but the reader quickly learns that there is an over arching theme that holds the entire construct together, and it is love: love of life, love of others, love of the imperfect, love of perfection, love that 'stands tall on the shoulders of giants. Like the dot on a lowercase "i".
The book itself is divided into seven sections, and since the poems within each of these sections nestle together quiet comfortably, I found it best to read them as separate collections. The opening section, A Place Called Home, is striking and memorable, especially in the poem Kansas City Beats. 'Loose manhole covers . . . clup-clup, Hard heels on pavement . . . tippity tap-tap, tippity tap-tap.' Finally, Miller reveals the complete orchestral performance of her modern city in:
Tomorrow's music,
invented hourly,
rising from our city's living sounds.
A Ragtime past
turns into Jazz Fusion.
Thump-ity-thump
clup-clup,
tippity tap-tap
tippity tap-tap
clup-clup,
thump-ity-thump.
From the 'Home' opening section, Miller charts a life that progresses from familial love and the wistful associated memories, through 'Floodgate' where 'a casual look and an interesting coffee', result in 'a formal "I do!"'
It is fair to say that this collection can also be read as an autobiographical work, but this by no means lessens its impact and its ability to rephrase the ordinary into the extra-ordinary. Following 'Floodgate', Miller nails her colours confidently to the mast, celebrating the joy she sees in the diversity of human kind. 'Life is a Box of Crayons' is the mid section of this beautiful and tender poetry collection. It is also where the Poet reveals her true gift. Miller has that wonderful gift of being childlike and not childish, wonderfully perceptive, but not preachy; she writes with a confidence that has been acquired through trial and error, and a recognition that to make gains we also have to take risks.
Enough now,
safely cradled in the arms
of a loving devil
there is nothing left
for you to say.
Run to your intolerant God
and plead forgiveness
for creating me.
The Unique and Sundry is a work forged by love and shaped on the anvil of a life courageously and honestly shared. Beg, borrow or buy the book, and run the risk that your faith in humanity may be restored. I leave this refreshingly honest Poet with the final word:
Their eyes like darts
their judgment like daggers
ripping into my words
as I stand
naked flesh
in front of them,
my tongue bound
to the four corners of my mind,
spread-eagle, unable to recoil
from their assumptions.
___________________
Niall O'Connor
Author of Change in the Wind
http://dublinepost.blogspot.com/
–
Dubline Post
"Across white – the soul's inkwell pours black and over borders flows" so – begins our journey into the magnificent collection that is The Unique and Sundry. Poet, Delaina J. Miller weaves words as though with filaments of gold – tributes to the greats and grands along with the clearly ordinary until the very essence of beingness shimmers as a celestially touched tapestry of hope, of light, of the very sense, to paraphrase Miller herself, of the 'decanted soul." The poems reach in and grab in luscious handfuls the full breadth of life experience.
There is an almost inexpressible essence to Miller's poetry, a fluidity that one can imagine is possessed by a soul that has chosen to make itself known. Each poem offers portions of the poet's perspective, of a creative self spinning, shifting, shining in a glorious whirl of picture words that stand proudly alone and all fall together into a grand meaning of feeling that is simply beyond the page. There is certainly nothing static about Miller's poetry. The poems in this glowing collection are as though a filament of soul has been poured into a rainbow prism shimmering, reflecting, projecting, teaching and learning. In this way, there is both an instructional and mystical element that merges in Miller's impressive work and perhaps therein lies the sense that one is viewing a living soul singing its experience and reaching out to connect, grow and metamorphose from a chrysalis into a spill of image, transforming into an elixir that pours. Delaina Miller is a sommelier of lyricism… her poetry pours …often with such fluid images as the "decanting of the soul. " Yes, as Miller writes in "A Place Called Home" – "the soul inflates" throughout this collection – "yearning folds into hopefulness" as in her "A Sea of Maybe, and the passion of that "gypsy soul" mentioned in "Bird of Passage" sings.
Miller swirls diverse images as fine wine, until they are not so much read as tasted. In "The Black Sea and Me" a sun setting in Batumi rises simultaneously in the reader's mind along with the grace note of the date September 11th flowing throughout the poem "over seas and oceans" to close with a "prayer for "tenderness." Throughout the collection there is a soaring sense of hope and incandescence such
as "The Importance of a Rainbow" where Miller cites the wisdom of Nelson Mandela to " look for the light in falling rain. "
Delaina J. Miller's poetry often hangs in scrolls alongside the artwork of Elisabeth Spillman. Such a presentation of this particular poetry as art to be savored is completely understandable. This is a volume to be enjoyed on a multiplicity of levels painting the human experience in the reader's vision. Poet, Delaina Miller has written a magnificent volume to cherish – creating or perhaps even channeling the movement and color and throbbing sense of a sweeping soul-filled scope of all that we might share bringing us indeed to "a place…" that very well might be "called home" and to which we shall surely yearn to return again and again.
___________________
Dr. Pearl Ketover Prilik
Dr. Pearl Ketover Prilik, poet/writer psychoanalyst publication credits include: three nonfiction books, five years as editor of the "Adelphi Society for Psychoanalysis and Psychotherapy Newsletter", creator-editor-participant of Prompted, an International Collection of Poems, and Beyond the Dark Room, An International Collection of Transformational Poetry.
http://drpkp.com
–
Imagine
When you come across poets on the internet it is both the same and very different from reading a book by a poet. Delaina J. Miller has been a frequent visitor to the same sites I also frequent. There we give encouragement, we point out the things we like, and go to the next poet. When Delaina approached me and asked if I wanted to review her upcoming book The Unique and Sundry, I first thought it was a little bit more of the same as reading and commenting on her poetry online.
It was to a large extent, but yet so very different.
Words can be —
the twist of the key
that unlocks
the mysteries.
(From "The Secret Life of Books")
A collection as well done as this one is something entirely different. The voice of the poems is familiar, a unique and gentle voice, where every poem ties up with beautiful conclusions, like a parcel wrapped with a soft bow. This I recognize from the poems that Delaina have published on the internet.
Yet in this collection they have been edited to structure, but even more they have been placed along a narrative that tells you more about her life. Her hometown Kansas City is brought to life in the first chapter. We see everyday life, visiting the market, having a silent afternoon at home, and notice glimpses of the nature breaking through.
In the second chapter, that really touched me most, we meet Delaina's family in memories. Many of the poems tell heartbreaking stories of loss. We hear about sickness and death, all those stories we all carry inside and yet is totally unique. Something to relate to, someplace to grow compassion.
From there we follow a life that fills with love, from the first flirt, to marriage, and a life together. Each of the poems clearly tell a story, in sparse words. It could be a tender moment, a meal shared, or an intimate moment. There are breakups and reconciliation just like in any life. Stories include sunshine and romantic dinners but also "Skinless knees and torn hems".
Delaina is always close to nature in her words. There is a closeness and a sense of time passing through the seasons to emotions and sensations. I find her poems being at their best in the way they capture a scene and a feeling in just a fistful of words.
The last chapter reveals another side of her poetry. It is dedicated to her mentors and women who have gone before her. These poems show how it is to be living as a lesbian and how much it means to have magnificent activists who have made it possible to live a normal life.
This book is about a life lived, and still being lived, it's about society and love. I will go back to it for inspiration over and over. It is a book I could keep by my bed, to read a poem before meeting my dreams.
___________________
Björn Rudberg
a self-taught poet from Stockholm Sweden. Trained a physicist working with Business Development in a multinational company he now spends a large part of his day blogging poetry. You can meet him and other online poets at: http://dversepoets.com a site dedicated to the love of writing and reading poetry. Rudberg also has a short story, Wallpapers, published in the Anthology — Keyhole Stories.
http://brudberg.me
–
Björn Rudbergs Writings
Readings from The Unique
&

Sundry
She Too: Four Voices in (Almost) Harmony (2014)
Click on the image to grab your Amazon copy.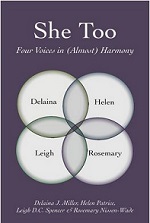 A Virtual Reading of She Too
Pints & Poetry the weekly poetry magazine
Instagram
Instagram did not return a 200. Follow Me!